Qui est en ligne ?
Il y a en tout
24
utilisateurs en ligne :: 0 Enregistré, 0 Invisible et 24 Invités :: 2 Moteurs de recherche
Aucun
Le record du nombre d'utilisateurs en ligne est de
605
le Lun 4 Nov 2019 - 14:19
Bonjour, I wish I could speak French but unfortunately I can't. I've been using this forum with Google Translate and found it very helpful. Now to enjoy the content I need to introduce myself. My build is almost done but still missing a seat and rear"hump" but that should be done this weekend. Next winter I will go through the wiring a bit better and maybe get rid of all the extra electrics. Here's a picture from a while back.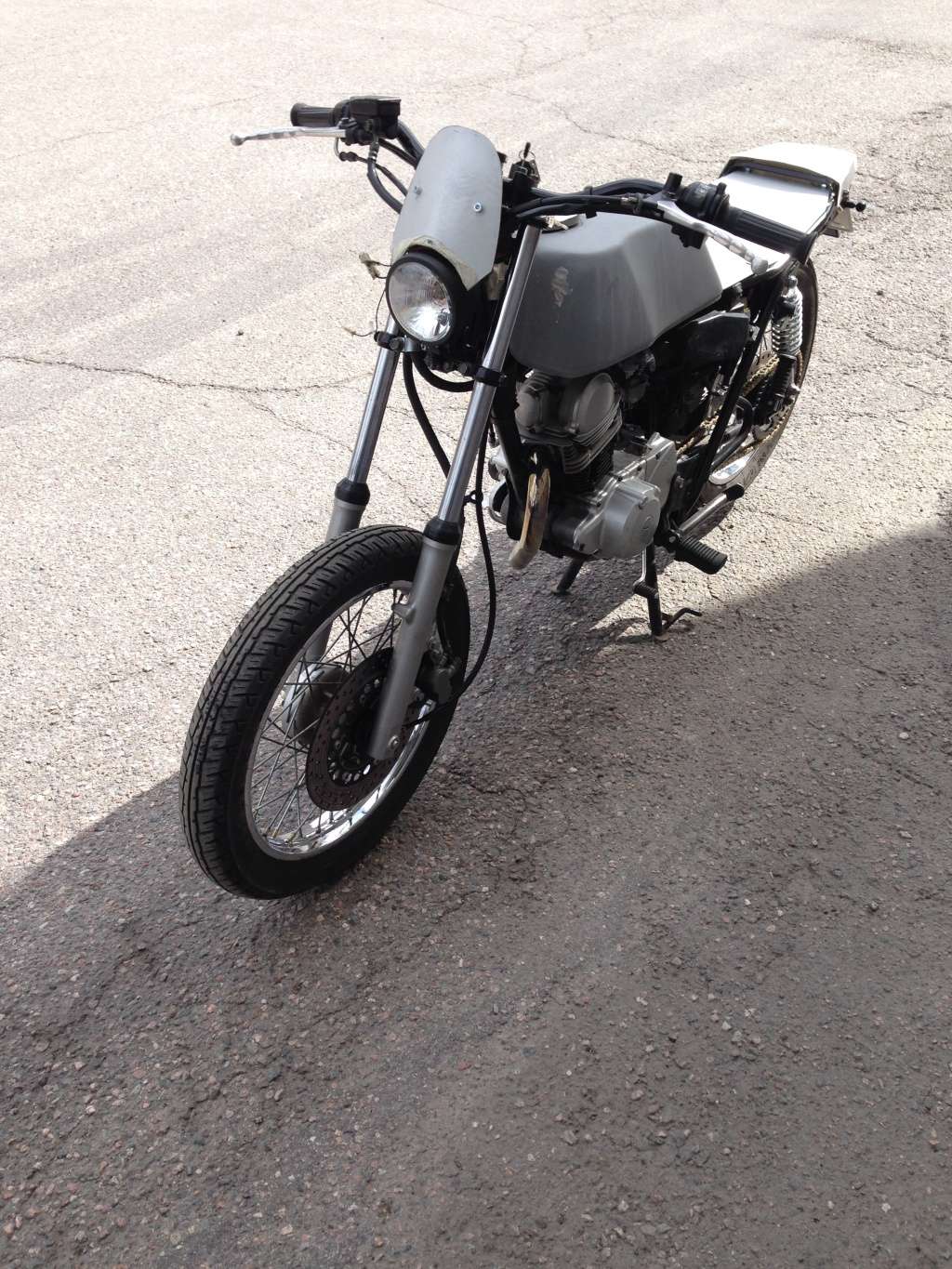 Guest

Invité





pretty nice work. 
feel free to send more photos of your works ! 
if you need some help to understand and enjoy the content, I may be able to do some translations for you. 
Welcome in the SR family !

Max-D

SR-Regular





Messages

: 28


Age

: 36


Localisation

: Angoulême




FinoallafineSR125

SR-Medium





Messages

: 149


Age

: 29


Localisation

: Toulouse - Nogent sur Marne



Polux, depuis le temps que je te dis que l'on vise l'internationale
...
Nous voilà donc dans le vif du sujet Messieurs...
A vous de jouer Polux
...

MG42

SR-Vétéran





Messages

: 3912


Age

: 56


Localisation

: 06 Alpes Maritimes



welcome to you and your bike, it seems to be a good one. 
indeed don't hesitate to send us more pictures, we like it.
Be carefull and have fun with your beautiful  SR

herve

SR-Vétéran





Messages

: 659


Age

: 60


Localisation

: la ville du bois



Hei teille Lestom ja ollatervetullut paikalleneuroottinen SR 125 .
Näet , löydät kaiken mitä tarvitset tällä sivustolla.
Tietenkin luotamme suurlähettiläänäsivuston , tehdä siitä meille Suomessa ...
Innolla kuulla sinusta .
Traduction pour ceux qui ne parlent pas le finnois comme moi
Bonjour à toi Lestom et sois le bienvenue sur le site des névrosés de la 125 SR.
Tu verras, tu trouveras tout ce dont tu as besoin sur ce site.
On compte bien évidemment sur toi comme ambassadeur du site, pour nous faire connaitre en Finlande...
Au plaisir d'avoir de tes nouvelles.

MG42

SR-Vétéran





Messages

: 3912


Age

: 56


Localisation

: 06 Alpes Maritimes



J'espère qu'il n'y aura pas de questions techniques ...

glutch2000

Modérateur





Messages

: 7176


Age

: 56


Localisation

: 86 Vienne



Hello,
here's a picture with some more work done. Will still need to clean up the wiring, finish the side panels and do something about the tank(paint). Other things I would like to do is lower the front and lift the rear. Lowering the front could be done with a top and bottom yoke from a -99 or newer (mine is a -98) by sliding up the fork through the yoke. This is limited by the handlebar and I'm guessing around 20mm, anybody tried this? The back would need longer shocks, original 295 or 300mm. What is the longest shocks you have mounted without getting into trouble with the chain contacting the swing arm? I was thinking about 325mm.
(Could not get image upload(servimg) to work…using tinypic.)

Guest

Invité





Hi, welcome
Really nice work, my project, in my head, look closer than your.
For the rear shocks, somebody says dax replica work good, 330mm look okay
Sujets similaires
---
Permission de ce forum:
Vous
ne pouvez pas
répondre aux sujets dans ce forum